You're Nutty, Honey! Energy Bars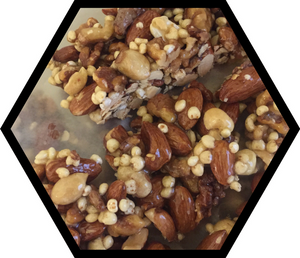 This recipes comes to us from our dear friends and big fans of Stakich products, Margaret and Jason. They are new, first time parents, and with recently having a kid, they are left with little time to cook. They have been taking advantage of the nap times to whip up quick and easy-to-make snacks that will satisfy their hunger and hold them over until their next meal.  
These nutty energy bars are not only delicious, but so simple to make. They remind me of Kind Bars, but without the attached price tag. The nuts provide you with a rich amount of healthy fat, fiber and protein and the honey adds in just the right amount of sweetness. She said for next time, she's going to try them with our Cinnamon Enriched Raw Honey and drizzle dark chocolate on top. Mmm can't wait to try those, too!
Ingredients
2 c. roasted whole almonds
1 c. roasted peanuts
3/4 c. roasted walnuts chopped
2/3 c. puffed millet
1/2 c. Stakich Raw Honey
1/3 c. brown rice syrup
1 tsp. of sea salt
1 tsp. vanilla
Directions
Mix nuts and millet in bowl and set aside.

Heat honey, brown rice syrup, sea salt and vanilla over medium heat and stir frequently. Remove from heat when instant read thermometer hits about 250 degrees.

Pour syrup over nut mix and stir until combined.

Lay out and press mix into a rectangle. Laying it out on wax paper that's been placed on top of a cutting board is easiest.

Once mixture is cool and set (I placed mine in the fridge for 30 minutes), cut into bars and enjoy! 
Leave a comment
Comments will be approved before showing up.
---
Also in The Buzz
Similar to natural honey, bee pollen has numerous benefits that vary from cosmetic to health-related. When compared to raw honey benefits, bee pollen might be more suitable for chronic health issues, such as weakened immunity and frequent illnesses.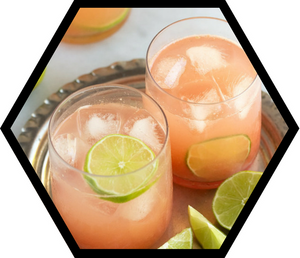 Honey water and grapefruit steal the show in this delicious drink. Use the recipe below to make a honey simple syrup that can be used to sweeten any of your favorites beverages.