Energizing Royal Jelly Berry Smoothie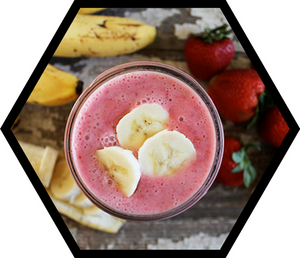 Fresh Royal Jelly is the secret ingredient in this smoothie. It is the queen bee's main food and believed to be responsible for her longevity and fertility. (The queen bee grows 42% larger than the worker bee, lives five to seven years and lays over 2,000 eggs per day). It also is known to have a naturally bitter taste. Luckily, it can easily be masked when consuming it with honey or in smoothies, such as this one! 
Power up for the day ahead with this filling and nutrient-filled breakfast smoothie. This recipe is simple, tasty and filled with ingredients full of antioxidants to get you looking and feeling good all day long! You can experiment with the veggies and try kale, spinach, arugula or other greens. It's loaded with vitamins and antioxidants and the fresh royal jelly will give you a natural energy boost!
Simply add all of the ingredients in a blender and blend until smooth.
Ingredients
1 c. almond or coconut milk
2 - 3 big handfuls of fresh spinach
1 c. frozen berries
1 frozen banana
1 Tbsp. coconut oil
1 - 2 tsp. Stakich Fresh Royal Jelly
Leave a comment
Comments will be approved before showing up.