No-Bake Pecan Pie Bars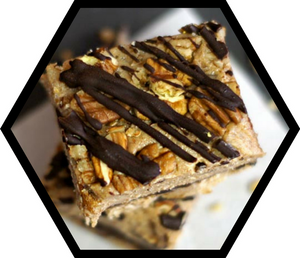 With all the work involved in preparing a Holiday dinner, wouldn't it be nice to have a dessert recipe that doesn't involve the oven? And who doesn't love a scrumptious pecan pie for dessert? These Pecan Pie Bars take care of the hassle-free prepping while providing the delicious dessert we all know and love around the holiday season.
These bars are deceptively nutritious for you, too. Featuring nutrient-rich dates and buttery pecans, they are full of a variety of B vitamins, iron, and fiber. The honey adds the subtle sweetness with the added antibacterial benefits your body needs during the flu season.
The only thing you need for this recipe is a food processor, baking pan and the ingredients. Now let's get started...
Ingredients
For the crust
1 c. Medjool dates, pitted
1 c. raw pecans
1 c. unsweetened shredded coconut
1/2 tsp. fine sea salt
For the filling
1 c. Medjool dates, pitted
2 Tbsp. Stakich Liquid Honey
2 Tbsp. coconut oil
1 c. raw pecans
1/4 c. water
1/4 tsp. fine sea salt
For the topping
1 c. pecans
1/2 c. dark chocolate
Directions
Line an 8x8 square baking pan with plastic wrap to keep the bars from sticking.
In a large food processor (or blender), combine the ingredients for the crust and blend until you have a sticky dough. Press the dough into the bottom of the dish or pie plate. 
Put the crust in the freezer while you prepare the filling.
Prepare the filling by putting all the ingredients in the food processor and blending well. You may need to stop and scrape the sides down from time to time. If the mixture is too thick, add a little extra water.
Spread the filling over the crust (and chocolate, if you're using it). Smooth it with a spatula, then gently press in the cup of pecans for the topping. If you're using chocolate, drizzle 1/2 cup of melted dark chocolate over the pecans.
Put the pecan bars in the freezer for 6 hours to overnight, then cut and serve.
Leave a comment
Comments will be approved before showing up.
---
Also in The Buzz
Similar to natural honey, bee pollen has numerous benefits that vary from cosmetic to health-related. When compared to raw honey benefits, bee pollen might be more suitable for chronic health issues, such as weakened immunity and frequent illnesses.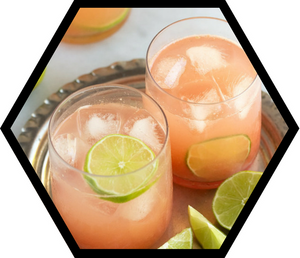 Honey water and grapefruit steal the show in this delicious drink. Use the recipe below to make a honey simple syrup that can be used to sweeten any of your favorites beverages.