Antioxidant Smoothie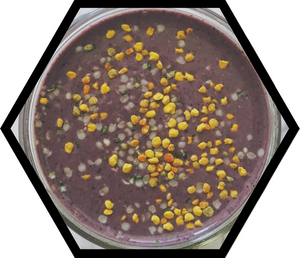 Here is another ahh-mazing @whatalieats recipe. With this one, she combines blueberries, cherries, lucuma, baby spinach, and bee pollen which are all antioxidant powerhouses! It's a perfect smoothie to make, especially on a Monday morning, when you might need a little diet reset and want to start the week off with a fresh slate.
The Bee Pollen on top let's your coffee maker have a day off. Since Bee Pollen is known for its natural energy boosting properties, you'll feel energized without experiencing the caffeine jitters or the mid-afternoon crash.
And, if you have a nut allergy, feel free to leave out the PB powder and replace it with unsweetened cocoa powder, and use coconut milk in place of the almond milk.
Ingredients & Directions
Combine:
1 c. almond milk
1 c. frozen berries (blueberries & dark cherries)
1 scoop protein powder of choice
1 tbsp lucuma powder 
1 handful organic baby spinach
1 tbsp powdered peanut butter
Cinnamon, ice, and stevia to taste
Blend in a blender
Top with hemp seeds and Stakich Bee Pollen
Thanks @whatalieats! Be sure to check out all of her delicious creations on Instagram.
Leave a comment
Comments will be approved before showing up.