Beat the Winter Blues Smoothie Bowl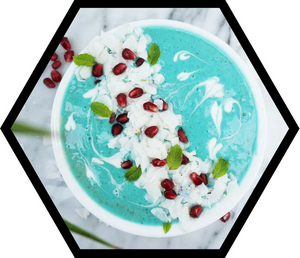 January is here and 2018 is in full swing! As always, this can be a popular time of year to re-evaluate your diet and get back in touch with your health and wellness goals. Always a fan of the realistic, I recently read some good advice that I thought I would share: Set small, attainable goals for yourself.
Remember that the journey to wellness is a marathon that needs to be sustained over time, and not a race. 
Start simply by making a smoothie bowl like this one to fuel your next early morning meeting or afternoon workout. We hope the color, flavor and added nutrition boost puts a smile on your face on even the dreariest winter day. 
Make sure to read more about why we love Spirulina by checking out our recent blog post here.
Ingredients
1/2 c almond milk, cashew milk, or any milk substitute of your choice
1/2 avocado 
1 banana, fresh or frozen
Handful of blueberries, fresh or frozen 
Handful of spinach
1 Tbsp Stakich Spirulina 
Optional: Add a handful of frozen pineapple, cauliflower or zucchini 
Don't be afraid to get creative! There are thousands of ways to make this smoothie, so feel free to add whatever sounds good - or is about to go bad in the fridge. 
Directions
Place solid ingredients in blender and pour in milk. Blend for 1-2 minutes or until smooth. Garnish with desired toppings (shredded coconut, frozen berries or fresh mint) and enjoy!
📸: Blue Skies
Leave a comment
Comments will be approved before showing up.
---
Also in The Buzz
Similar to natural honey, bee pollen has numerous benefits that vary from cosmetic to health-related. When compared to raw honey benefits, bee pollen might be more suitable for chronic health issues, such as weakened immunity and frequent illnesses.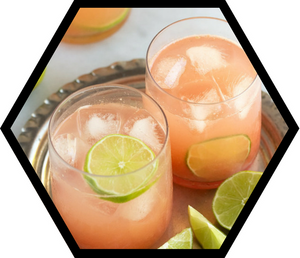 Honey water and grapefruit steal the show in this delicious drink. Use the recipe below to make a honey simple syrup that can be used to sweeten any of your favorites beverages.