Creative Beeswax Candles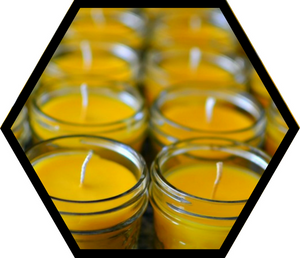 Did you know that burning beeswax candles helps purify the air in your home? They burn with almost no smoke or scent and clean the air by releasing negative ions into the air. These negative ions can bind with toxins and help remove them from the air. Plus, the smell of natural beeswax is especially delightful and sure to please any guest. 
Ingredients
1 lb pure Stakich Beeswax
1/2 c Coconut oil
Candle wicks
Bamboo skewers
Double boiler


Directions
Making your own candles with beeswax is very easy to do. 100% beeswax will make a great candle, but personal experience has shown that the candle will melt away from the wick better if you mix some coconut oil in with it, so if you have access to the oil, follow the instructions above. 
1) Prepare candle wicks by cutting them to appropriate length (approximately 6 inches longer than your candle receptacle is tall) and tying one end of the wick onto a bamboo skewer. 
2) In a double boiler melt beeswax with coconut oil over medium heat until completely melted, stirring often.
3) Use caution when transferring melted wax out of boiler and into glass or ceramic container (see below for creative ideas!). Place wick in the center of the liquid wax, using the bamboo skewer to keep it properly placed until wax cools and hardens completely.  
Have fun with this by re-using containers to make something pleasing for both sight & smell! Terra cotta pots, teacups, cocktail glasses, ceramic bowls, thrift store finds, even old candles that have fallen to the wayside can be reused.
 📸: Pinterest
Leave a comment
Comments will be approved before showing up.
---
Also in The Buzz
Similar to natural honey, bee pollen has numerous benefits that vary from cosmetic to health-related. When compared to raw honey benefits, bee pollen might be more suitable for chronic health issues, such as weakened immunity and frequent illnesses.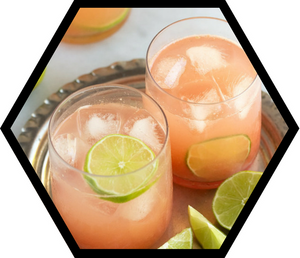 Honey water and grapefruit steal the show in this delicious drink. Use the recipe below to make a honey simple syrup that can be used to sweeten any of your favorites beverages.