Ginger Honey & Lemon Tea for Cold & Flu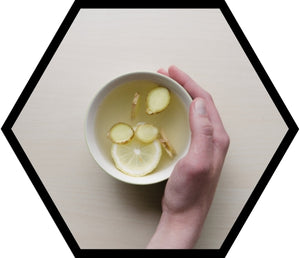 Don't let the cold and flu season knock you down this year. 
For centuries, honey, ginger, and lemon have been recognized for their immune-boosting properties, and when combined, they make a knock-out remedy to help fight against sickness. Together they may help relieve many of the symptoms that accompany the flu and cold, like infection and inflammation.  
Raw Honey
Honey is a powerful supporter of overall wellness due to its rich supply antioxidants and enzymes. With natural antiviral, antibacterial and anti-inflammatory properties, it is incredibly nourishing to the body.
Ginger 
Ginger, is high in gingerol - a substance with powerful anti-inflammatory and antioxidant properties. It also aids in digestion to help ease the stomach. Like honey, it has natural antiviral properties to help boost your immune system.
Lemon
Lemon is a very rich source of Vitamin C and Magnesium. Similar to ginger, it works as a detoxifying agent helping to improve gut health and ease the stomach. It also has strong antiseptic properties which can help fight infections.
Together, the three ingredients work in a synonymous manner to help you feeling better quicker! So breathe a little easier and try out this delicious all-natural tea:
Slice lemon into slices and add a few slices to a cup or mug.
Add 1 Tbsp Ginger Enriched Raw Honey to the cup or mug.
Add in hot (not boiling) water and stir.
Sip and enjoy.
Our Ginger Enriched Raw Honey makes a great holiday or house warming gift! You can also find it in a few of our sweet and easy to gift Gift Sets.
Leave a comment
Comments will be approved before showing up.