Ginger-Honey Stir fry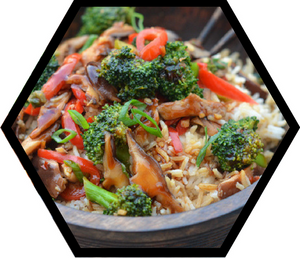 Honey's subtle sweetness is a welcome addition to any dish. Below we used our Raw Honey enriched with Ginger to spice up this stir fry recipe.
Our advice: don't be shy when adding it to your favorite meals! Honey can also be used in a marinade - it will help tenderize the meat and caramelizes it while cooking. Combine it with your favorite soy sauce to marinade the protein ahead of time to add an extra kick to the recipe below. 
Ingredients
1 c. each of 4-5 of your favorite veggies (think seasonally and get creative!)
Try to choose one vegetable from each color of the rainbow: bell pepper, beets, sweet potato, white, yellow or green onion, mushrooms, asparagus, snap pea, broccoli, bok choy, purple cabbage etc.
2 c. protein
Shrimp, tofu, chicken or beef 
Stakich Ginger enriched Raw Honey 
1/2 c soy sauce or soy sauce alternative
1/8 c of your favorite cooking oil (Sesame works well with this recipe)
1 Tbsp chopped ginger root (optional)
Directions
Chop vegetables & ginger and set aside. Heat oil in large pan over medium-high heat. Add protein and cook until tender. Add vegetables and soy sauce (If using beets or other tubers, bake in oven for 20 min beforehand), lower heat to medium and let simmer for 15 minutes. Add ginger and cook for 5 minutes before mixing in honey to taste (start with 2 Tbsp, adding more if you like). Sprinkle with chopped green onion and enjoy! Can be served with rice or your favorite noodles. 
Leave a comment
Comments will be approved before showing up.