Ginseng Chicken Soup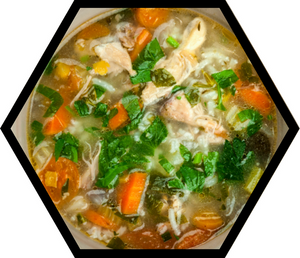 In our recent newsletter (if you don't receive our fantastic and not-too-frequent newsletter make sure to use the sign up form at the bottom of this page) we discussed how Stakich products can keep you healthy through the changing seasons. I love to incorporate Ginseng when cooking because it is a powerhouse of health & wellness!
This soup is a take on a traditional Chinese soup, and is great to make when you feel a cold or flu coming on, as Ginseng is a potent immune booster and enables the body to better handle stress. 
Ingredients
2 Tbsp Olive Oil
2 c Onion (yellow or white), chopped
2 Tbsp Fresh Ginger
4 Tbsp Stakich Ginseng Powder 
6 Garlic Cloves, minced
1 lb Boneless Chicken Breast, cut into 1-inch pieces
2 c Carrots, chopped
2 c Stalks, chopped 
1 c Mushrooms, chopped
2 Small Handfuls of Chopped Parsley (optional)
6 c Water
3 Cans (14.5 oz) Chicken Broth
1/2 tsp Salt
1/4 tsp Ground Pepper 
Directions
1) Heat the oil in 12 qt stockpot over medium-high heat.
2) Add onion, ginger, and garlic cloves and sauté for 3-5 minutes, until the onion begins to soften.
3) Add chicken and sauté for 6-8 minutes, stirring consistently. 
4) When chicken begins to brown slightly, add water and broth and bring to a boil.
5) Stir in Ginseng powder and bring to a boil. Add chopped vegetables and allow to boil for 1-2 minutes.
6) Reduce heat and simmer for 20 minutes, making sure the vegetables are cooked until soft. Stir in parsely (if using) for the last two minutes over heat. Sprinkle with salt and pepper.
📸: Totally the Bomb
Leave a comment
Comments will be approved before showing up.
---
Also in The Buzz
Similar to natural honey, bee pollen has numerous benefits that vary from cosmetic to health-related. When compared to raw honey benefits, bee pollen might be more suitable for chronic health issues, such as weakened immunity and frequent illnesses.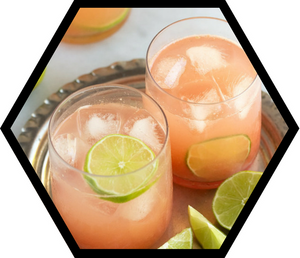 Honey water and grapefruit steal the show in this delicious drink. Use the recipe below to make a honey simple syrup that can be used to sweeten any of your favorites beverages.