Pumpkin Spice Bread with Ginger Honey Cream Cheese Frosting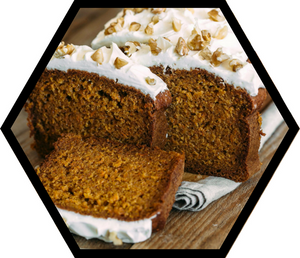 Once the temperatures start to drop and it starts to feel like fall, I love to spend time in the kitchen baking. This Pumpkin Spice Bread is hands down my favorite fall recipe - easy to make on a lazy Sunday afternoon yet enough to impress your friends at any potluck or gathering. 
Ingredients for Pumpkin Spice Bread
2 c Canned Pumpkin
3 c Brown Sugar
1 c Water
1 c Vegetable Oil
4 Eggs
3 1/3 c All Purpose Flour 
2 tsp Baking Soda
2 tsp Cinnamon 
1 tsp Salt
1 tsp Baking Powder
1/2 tsp Nutmeg
3/4 tsp Ground Cloves
Optional: add 1 c chopped walnuts and 1 c raisins (or 2 c of either) into batter for added flavor and crunch!
Ingredients for Frosting 
Directions
FOR BREAD: Preheat oven to 350. In a large mixing bowl, combine pumpkin, sugar, water, vegetable oil and eggs and beat until well mixed. Slowly add in dry ingredients, mixing until batter is smooth. Grease two 9x5 loaf pans, and evenly divide the batter between the two pans. Bake for 60 minutes or until a toothpick inserted in the center comes out clean. Wait until completely cooled before frosting.
FOR FROSTING: Using an electric mixer, beat butter, cream cheese and salt on low speed until smooth. Beat in honey and vanilla, then beat in confectioners' sugar until frosting is whipped. 
There is always room for variation so have fun with this recipe! Add walnuts or raisins (or both!) into the batter, sprinkle chopped walnuts on top or drizzle the frosting with honey for an added effect. We promise the hardest part about this recipe will be sharing!
📸: Pinterest
Leave a comment
Comments will be approved before showing up.