Honey Fried Chicken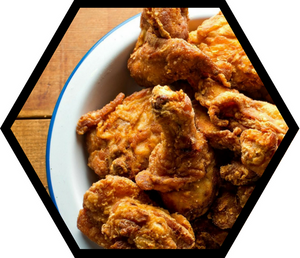 Everyone deserves some comfort every now and then, and this is our take on the southern classic. Frying chicken at home is easier than you may initially think, and you can feel better about what you're eating than if you were to eat it from a restaurant. The addition of a healthy honey drizzle brings a subtle sweetness that truly makes this recipe finger-licking good! 
Ingredients
Directions
1) Mix together buttermilk, 1 Tbsp salt, 1 Tbsp pepper and 1 tsp paprika. Pour mixture over chicken in a baking pan and place in the refrigerator for at least 1 hour and up to 4 hours.
2) In a large, deep pot or Dutch oven pour enough of the oil to fill the pot 3- to 4-inches. Heat over medium-high heat until a deep-frying thermometer inserted in the oil reaches 350 degrees F. Set a cooling rack over a baking sheet.
3) In a large bowl, whisk to combine the flour, garlic powder, onion powder, the remaining 3/4 tablespoon salt, 1/2 tablespoon pepper and 1 tablespoon paprika. Whisk to combine the dredge.
4) Lift the chicken from the buttermilk, then coat the pieces completely in the flour. Transfer the chicken to a baking sheet or large plate.
5) Working in batches and being careful to not overcrowd the pot, add the legs and thighs to the hot oil and cook, turning and monitoring the oil temperature, until crisp and golden brown, 5 to 6 minutes per side. Transfer the chicken to the prepared rack. Add the wings and breast pieces to the oil and cook until deep golden brown, 3 to 5 minutes per side. Transfer to the rack, then drizzle with honey and serve.
📷: www.phillymag.com 
Leave a comment
Comments will be approved before showing up.