Superfood Chocolate Bark with Bee Pollen
Looking for something sweet to eat? The fun thing about this recipe is that it is so easy to modify, uses no processed sugar, and packed with Superfoods! This treat looks impressive but is simple to make, so you can surprise your friends by making it for your next gathering, or as a hostess gift the next time you are invited to a dinner party or weekend getaway. 
Ingredients
24 ounces chocolate of your choice, chopped

1 cup dried goji berries, chopped 

1 cup

 

whole raw almonds, chopped

1 cup sunflower

 seeds

1/8 cup 

chia seeds

2 Tbsp

 Stakich Bee Pollen
Note that any type of chocolate can be used for this recipe, so whether you prefer to use dark, milk or white, just make sure the total weight equals 24 ounces
Feel free to get creative! Cashews, pumpkin seeds, macadamia nuts, walnuts, pecans, raisins or simply left over trail mix works as a substitute for the different ingredients listed above. 
Directions 


Gently melt the chocolate using a double boiler technique

, using a stainless steel mixing bowl over a saucepan of simmering water.
Melt the chocolate in the mixing bowl, and stir in most of the nuts, dried fruit, and seeds (keeping some ingredients on hand to top the chocolate with). Combine well. 
Pour into chocolate molds, lined muffin tins, or simply pour onto a pan lined with parchment paper - whatever shape, size you like.
Sprinkle with Bee Pollen and allow to set for a few hours.
📷: 101cookbooks.com
Leave a comment
Comments will be approved before showing up.
---
Also in The Buzz
Similar to natural honey, bee pollen has numerous benefits that vary from cosmetic to health-related. When compared to raw honey benefits, bee pollen might be more suitable for chronic health issues, such as weakened immunity and frequent illnesses.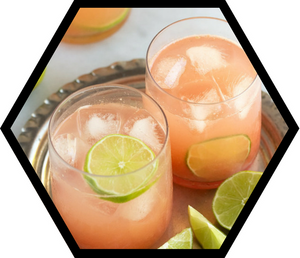 Honey water and grapefruit steal the show in this delicious drink. Use the recipe below to make a honey simple syrup that can be used to sweeten any of your favorites beverages.