Why Fresh Royal Jelly Is Great For Your Skin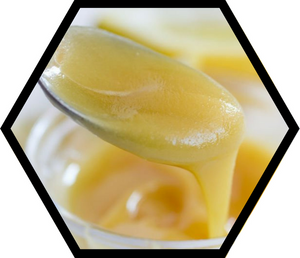 Did you know that Fresh Royal Jelly is also great for your skin? It's all the buzz! 
Royal Jelly is the most nutritious substance found in the beehive, and the only source of food for the queen bee and larvae. It is why the queen bee lives up to 50 times longer than the average worker bee, and is able to lay more than 1,500 eggs.
With its rich source of vitamins, proteins and amino acids, you can see why there are many reasons royal jelly is regarded highly in the health food world. Noted for being beneficial in cellular regeneration, it can help humans internally and externally.
You can read our post on the 10 Reasons To Feel Like Royalty With Royal Jelly to learn more about the benefits of Royal Jelly, but here we will tell you how you can use it on your skin.   
Everyone wants glowing, radiant skin. But as we age, or when we are stressed, our skin will naturally lose its luster. Royal Jelly helps reduces inflammation, promotes collagen production and is beneficial when applied directly to skin & hair. 
Here's what we recommend:
Directions
1 - 2x per week, apply a thin layer of Stakich Royal Jelly to a freshly washed face, and allow to sit for 20 minutes. After the 20 minutes have passed, rinse your face and feel rejuvenated!
Try to combine this time with another ritual that allows you to unwind from your week. For example, use this time to relax, breathe deeply and de-stress. 
Leave a comment
Comments will be approved before showing up.