Royal Jelly - The How-To Guide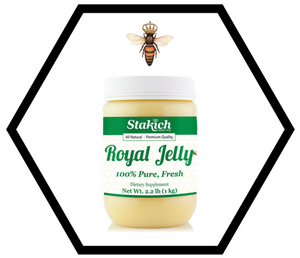 Royal Jelly is a densely nutritious substance produced by bees that is fed exclusively to the queen bee, and only to larvae during the first few days of their life. Produced by young nurse bees, it is combination of water and rich proteins, amino acids, fatty acids and sugars that have extensive nutritional benefits. Below is some more information about how to best store and consume this uniquely nutritive supplement.
How Do You Take Royal Jelly?
Its important to speak with your doctor or allergist before adding any beehive supplement to your diet, as some people can be highly allergic. Once you get the go ahead, we recommend that you start with a low dose and gradually increase the amount consumed.
Fresh Royal Jelly: 1/4 teaspoon of Fresh Royal Jelly and work your way up to 1/2 - 1 teaspoon of Fresh Royal Jelly each day. 
Royal Jelly Powder: Stakich Royal Jelly Powder is concentrated and has 3x higher potency than Fresh Royal Jelly. It is easily mixed into smoothies, water or juice and can be stirred into just about anything. We recommend taking 1/4 teaspoon daily of Royal Jelly Powder. 
Royal Jelly Capsules: Stakich Royal Jelly Capsules contain 500mg Royal Jelly Concentrate (powder) which is equivalent to 1500mg Fresh Royal Jelly. We suggest taking one (1) capsule three (3) times per day, with food. 
How Often Should Royal Jelly Be Consumed? 
If you follow the guidelines listed above, you can safely consume Royal Jelly every day! 
What Does Royal Jelly Taste Like?
Fresh Royal Jelly has a unique taste that many people grow to love. It is naturally bitter and tastes slightly sour. This is because it is an acidic food supplement. To help ease the bitterness, we recommend mixing it with quality Raw Honey, as these two bee products work together in a harmonious (and tasty!) manner. 
We also suggest our Royal Jelly Powder or taking it in capsule form if you are unfamiliar with the taste or think it won't appeal to you. 
How Do You Store Royal Jelly?
We recommend that up to a month supply of Fresh Royal Jelly should be kept in a refrigerator, and the remaining be kept in the freezer (for prolonged storage) and moved to the refrigerator closer to the time of consumption. Several days without refrigeration will not affect the quality, potency or integrity of the Fresh Royal Jelly.
Royal Jelly Powder and Capsules are shelf stable and should be stored in a cool, place. 
Ways to Use Royal Jelly:
One of my favorite ways to consume Royal Jelly is to incorporate it into my morning smoothie, of which there are a myriad of variations. [Follow the recipe below if you need some inspiration]
Fresh Royal Jelly can easily be spread on toast, added into oatmeal or breakfast cereal, mixed with honey or even stirred into coffee or tea. Royal Jelly Powder can be blended into anything, but perhaps works best in smoothies, juices, shakes or cereals. 
Make sure to continue to check our blog as we post more ideas about how to best use this amazing product! We hope that Stakich Fresh Royal Jelly helps you live long, live healthy and live well. 
Energizing Royal Jelly Berry Smoothie
Combine 1 cup almond or coconut milk, 2-3 big handfuls of fresh spinach, 1 cup of frozen berries, 1 banana and 1/4 tsp of Fresh Royal Jelly in a blender and blend until smooth. Add ice if desired and enjoy! 
1 Response
Leave a comment
Comments will be approved before showing up.